If you haven't seen it yet, there's a viral video on the internet of a ladybug following around a line drawn on paper. But why do ladybugs follow red lines like this? Let's find out
Keeping various insect species as pets lets you make a variety of fun and interesting observations.
Bug nerds can spend hours watching various unique and intriguing behavioral trains among different insects.
If you have a ladybug, you might notice that it follows red lines drawn on a piece of paper. If you haven't seen it yourself, here's a video showing what they do:
While such behavior is remarkable, it's not exclusive to your pet! This is a common trait among all species of ladybugs and many other insects.
They tend to follow red lines with quite a determination. Let's explore and find out the explanation behind this behavior.
Why Do Ladybugs Follow Red Lines?
You may have discovered this interesting behavior of lady beetles by accident, but here's a quick experiment that you can perform.
Place a ladybird on a piece of paper and start drawing a line with a red pen. You don't need a straight line – it can even be completely irregular, more like a scribble.
You'll likely find that the ladybug still follows the line, no matter what. Naturally, this raises a burning question about the reason behind such behavior.
There's a clear scientific explanation behind this behavior, but let's clear up a misconception before we get to it.
The red color is irrelevant – it's the smell of the ink that matters. 
The ladybugs don't exactly chase the "red" line. They chase the train left by the ink as you draw the line.
The concept of ladybugs and termites following red lines emerged simply due to a coincidence.
Now, here's what happens – the ink of ballpoint pens is often chemically similar to the pheromones used by ladybugs to communicate among themselves.
While not every ink shares such characteristics, some can get close enough to fool even the ladybugs.
They end up following the line you draw with the pen, assuming it to be a pheromone trail.
It's all about the smell of the ink; the closer it is to ladybug pheromones, the likelier they are to follow.
Other fascinating facts about ladybugs
A ladybug's tendency to follow lines is quite interesting, but it's not the only fascinating detail about these cute little beetles. Here are a few more that you might enjoy:
1. Ladybug larvae resemble miniature alligators
In case you have never seen a ladybug larva or know how they look, you'll never identify them as young ladybugs.
With long and spiny bodies, these larvae look very much like tiny alligators. They're usually black, with bright yellow or red markings.
This is the complete opposite of the appearance of adult ladybugs. A ladybug larva has a pointed abdomen with legs coming out of the sides.
2. Ladybugs can be of various patterns and colors
When we hear "ladybug," the image that comes to our mind is that of a small, dome-shaped insect with a bright red body and black spots.
This is the look we always associate ladybugs with, largely because that's how the native ladybug and other common ladybug species look. 
However, don't be surprised if you come across a yellow ladybug or an orange ladybug, as these beetles do come in those colors too.
While these two types of ladybugs at least share similar patterns as native ladybugs, the twice-stabbed ladybug looks like an entirely different species.
This ladybug has a shiny black body, with a red dot on either side.
3. Ladybugs have a monstrous appetite
Did you know that just a single ladybug can feast on more than 5,000 insects throughout its life cycle?
Such a voracious appetite is one of the key reasons why ladybugs are one of the best agents of biological pest control.
A variety of ladybug species from around the world were even introduced to North America specifically to protect crops against pests.
The reason behind this monstrous appetite is simple – ladybugs hibernate during the winter, and they are simply building up fat reserves during the summer.
The appetite of a ladybug larva is even greater than that of an adult ladybug.
4. Ladybugs can turn to cannibalism
If you're keeping ladybugs as pets, it's a bad idea to put too many of them together unless there's a large food source nearby to sustain all of them.
To sate their voracious appetite, ladybugs can even turn against each other and practice cannibalism if they do not have enough food available.
While ladybugs can't eat hard-bodied insects (including other fully mature ladybugs), they can still feed on pupae, larvae, or nearly emerged ladybugs that are yet to harden.
Quite interestingly, female ladybugs often lay a bunch of infertile eggs for the newborn larvae to feed on if food is scarce.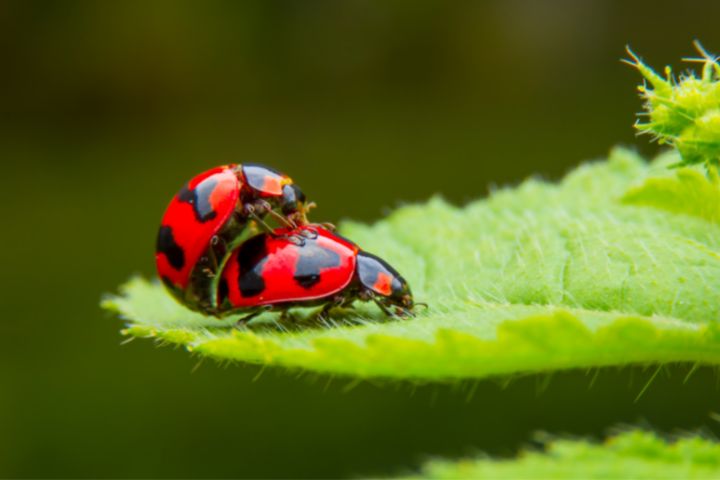 Frequently Asked Questions
Why do ladybugs follow red pen lines?
The pheromone used by ladybugs to communicate has a similar chemical composition as chemicals commonly used in pen ink. 
They rely on their sense of smell to detect pheromones, as a result of which lines drawn with pens appear to them as pheromone trails.
Do ladybugs have warning colors?
The color of a ladybug warns its predators against eating it. Bugs and beetles of bright colors are usually toxic, and it's the same case with ladybugs too. 
They synthesize poisonous alkaloids from the chemicals present in their prey. Asian lady beetles are known to secrete toxic blood from their legs when threatened.
Why do bugs not go over ink?
Just like ladybugs following ink trails, many bugs avoid crossing ink lines and end up trapped if you draw a circle around them. 
This could be due to several reasons, such as the ink chemicals smelling similar to a pheromone they don't link or the bugs not willing to step on the ink's solvent.
Why won't bugs cross a drawing?
Many bugs do not cross pen or chalk drawings, and there are several explanations behind this behavior. 
They might find the smell of the ink unpleasant, or the chemicals in ink may be similar to the pheromone of a predator. 
Many bugs can also sense the ink's solvent with their feelers and are afraid to get stuck in it.
Wrap Up
Regardless of whether you need to curb the aphid population in your garden or simply love keeping different insects as pets, it's worth getting a few ladybugs.
You'd enjoy spending some leisure time watching these cute beetles crawl around and go about their activities. Mostly harmless, ladybugs also make great pets for kids.
Thank you for reading!
Reader Emails
Our readers have often sent us pictures and videos of ladybugs and their unique behaviors and characteristics. These fascinating beetles have many stories to tell, and here are a few that you might like to go through:
Letter 1 – Why is the Ladybird Beetle walking in circles???
Subject: Strange Ladybug behavior (keeps walking in circles) Location: Piedras Negras, Coahuila, Mexico March 11, 2014 4:45 pm Hi Bugman, A week ago from now, I found a ladybug in our backyard that could only walk in circles. It was in direct sunlight, just going round and round, so I decided to do something to prevent a likely death from dehydration, and brought it inside. It's been with me for the last 7 days, and I have been feeding it small insects when I can, and when I can't, it seems to enjoy feeding on rice and sugar. I've also been keeping a wet Q-tip in its "cage". But after 7 days, even when it seems to still be in good health, it is still going round and round, and hasn't stopped. Just yesterday, I noticed that it began to walk in straight segments for the first time, but each straight run would still always end up in turning back and completing a loop. It also will not fly, although sometimes it extends its wings a bit. So, my question is not what kind of bug this is, but rather, why is it displaying such bizarre behavior. All of its legs are intact and move fluidly. Is it possible that it was just born crazy somehow? Was its nervous system damaged by a pesticide possibly? As far as I know, there are no pesticides in our backyard. I found a video on youtube of another person who observed the exact same behavior:
http://www.youtube.com/watch?v=wiA1wZI1oSI
And here's a video of my own ladybug the moment I found it:
http://www.2yr.net/VIDEO0089.mp4
This behavior is beyond my comprehension! It seems so purposeless and suicidal of it to behave like that… Signature: Humberto
Dear Humberto, We don't know the answer to your question, but we will post your submission, feature it on our web page, and hope that someone writes in who can provide some information.  We pondered the possibility of some sort of parasite, and though we discovered there is a Wasp that parasitizes a Lady Beetle, turning it into a "zombie bodyguard", the walking in circles behavior is not mentioned.  See Science Daily for an account of the wasp parasitization.
Update:  March 16, 2014
Hello, Thank you so much for your kind response, Mr. Marlos! Here's an update: The ladybug escaped a few days ago, but was recaptured about 12 hours later. I have recently discovered aphids in our rose plants, and brought a good few into the ladybug's enclosure, where it has been feasting on them. It is still going in circles though. The first 4 days, the circles it was making were fairly uniform, but now they sometimes distend into straight segments. I have learned a lot about ladybugs just by observing this one. If she stops running in circles before her normal lifespan is over, I will be sure to let you know. I read the article you linked, which was fascinating, but I'm afraid I don't know how to tell if this ladybug has ever been parasitized. Thank you! I'm glad to hear I've reported on something that was unheard of (I wouldn't want to send any trivial questions!). Cheers! -Humberto
Thanks for the update Humberto.  We look forward to any additional observations you might have.
Letter 2 – Metallic Blue Lady Beetle
"Black Ops" Ladybugs in SW Florida Dear Bugman, I just love your site– it always inspires me to garden with the camera within easy reach. Yesterday morning I saw this gorgeous black ladybug on my chenille plant. I thought it might be the Twice-Stabbed Ladybug, except that its red spots are up by the head and not on the back. We have nicknamed them "Black Ops" here at my house. The chenille is in full bloom and full of ladybug larva, so I hope to have a bumper crop of these little beauties. Best regards, Nik Fort Myers, Florida
We quickly located your Black Ladybird Beetle on BugGuide. It appears to be Axion tripustulata, which sadly does not have a common name, nor is there any other information posted about the species.
Update:  Metallic Blue Lady Beetle We just received a comment from Curious Girl who believe we have misidentified the Lady Beetle in this posting, directing us to the Metallic Blue Lady Beetle that is posted on BugGuide.  We agree with her that our original identification is not correct.  We really depend upon our readership to catch errors like this in our archives.
Letter 3 – Twice-Stabbed Ladybird Beetle is Kuwana's Lady Beetle
Chilocorus stigma – Twice-stabbed Lady Beetle Hello favorite bug people! I took these pics in Kane County, Illinois today. What a freaky looking little ladybug. I've never seen anything like this one. I found something similar on your ladybug page (see entry dated 10/19/2005) but it doesn't quite match up. The one I found did not appear to have any white patches on it's face. I also grabbed a shot of it's belly in case this helps with id'ing. It was about the same size as a typical lady bug, maybe slightly smaller, but not much. After picking up clues from your site, I delved into the enormous
bugguide.com
and found what appeared to me to be an exact match, The Twice-stabbed Lady Beetle. What an appropriate name based on her appearance! As usual, your site, expertise, and hard work are greatly appreciated. Sincerely, Michelle Nash Lily Lake, IL
Hi Michelle, We wish we could hire you to help research our site. Thanks for the photo of the Twice-Stabbed Ladybird Beetle.
Update: (03/10/2007)
Looking at ladybirds on-line, I noticed that the ladybird which was ID'ed as the Twice-Stabbed ladybird, Chilocorus stigma, on 07/12/2006, is in fact something different. This is an introduced Korean ladybird beetle that was used as a biological control agent in several parts of the USA, and seems to have spread widely. It's Chilocorus kuwanae, and this page shows the differences between the two species, as well as giving a lot more useful information.
http://www.nysaes.cornell.edu/ent/biocontrol/predators/chilocorus.html
Susan
Update:  January 22, 2014 While researching a new posting, we thought we would address Susan's corrections.  While Susan seems to have correctly identified the species as
Chilocorus kuwanae,
according to BugGuide, the name Twice Stabbed Lady Beetle is used for the entire genus
Chilocorus,
and also according to BugGuide,  this particular species may be called Kuwana's Lady Beetle.
Letter 4 – Lady Beetle from Madagascar
Subject: Madagascar ladybug Location: Madagascar April 24, 2015 3:44 am Dear bugman, On our trip to Madagascar we found this, in my opinion, ladybug. I haven't been able to find anything like it with the ringed-spots and as wondering if you could help me identify it. Thanks! nb; maybe worth mentioning; in the surroundings I've also found similar orange ladybugs who looked to be of the genus Epilachninae… Signature: Dennis
Dear Dennis, This is probably a Lady Beetle, but we cannot discount at this time that it might be a Leaf Beetle in the family Chrysomelidae.  Alas, we are late and we will be posting your image as unidentified, and we will return to the office to research this later today.  The spot pattern is similar to the Eyespot Ladybird Beetle from North America.
Take your time! Thanks for having a look at it 🙂 Gr!
We tried searching without any success this evening, and interestingly, all our searches brought up the posting we created.
Hi Daniel, That's interesting indeed, what do suggest I do now? Gr!
We are only able to devote so much time to a particular identification request because with warm, spring weather conditions prevailing over more of the northern hemisphere, our identification requests increase.  Also, when new requests coming in, older requests become more difficult for us to track as they get buried further back in our inbox.  We would suggest that you place a comment on the posting requesting assistance.  Sometimes months or years later, we receive comments from our loyal readership that result in a long overdue identification.  Your email did not indicate any urgency with the identification.  We don't know if you are just satisfying your own curiosity or if your life requires an immediate identification.  If the latter, we would suggest that you try attempting a more thorough internet search and pursue other venues for identification.  Meanwhile, your posting will remain on our site in perpetuity, and we hope that one day you will receive the answer you desire.
Update:  January 15, 2018 We just received a comment from Jaroslav Vetrovec that this is
Epilachna pavonia
, and we found a matching image on Le Monde des Insectes.