When observing insects in your garden, you may come across large black flying bugs that resemble bees at first glance.
These insects, though, often have unique characteristics that distinguish them from actual bees, making it important to recognize these differences for a better understanding of their behavior and ecological roles.
One example of such an insect is the black fly, which has a robust body, arched thoracic region, large compound eyes, and short antennae, paired with large, fan-shaped wings, and colored either black or rarely orange or yellow.
Another example is the bee fly, part of the Bombyliidae family, which has a stout body, covered in yellow, black, or brown hairs, and transparent or patterned wings.
These insects also feature a long proboscis for feeding on pollen and nectar.
Some characteristics of the insects that resemble bees:
Large compound eyes
Short antennae
Stout or robust bodies
Transparent or fan-shaped wings
Long proboscis for feeding on nectar
Hairs covering their bodies, which vary in color
Identifying Big Black Flying Bugs That Look Like Bees
Bumblebees Vs. Carpenter Bees
Bumblebees and carpenter bees can often be confused due to their similar appearance. However, there are key differences to help distinguish the two:
Coloration: Bumblebees have black and yellow stripes, while carpenter bees typically have a shiny, all-black body.
Size: Carpenter bees are generally larger than bumblebees.
Behavior: Bumblebees are social insects and live in colonies. Carpenter bees are solitary and nest in wood.
Example: A bee buzzing around flowers with black and yellow stripes is likely a bumblebee and not a carpenter bee.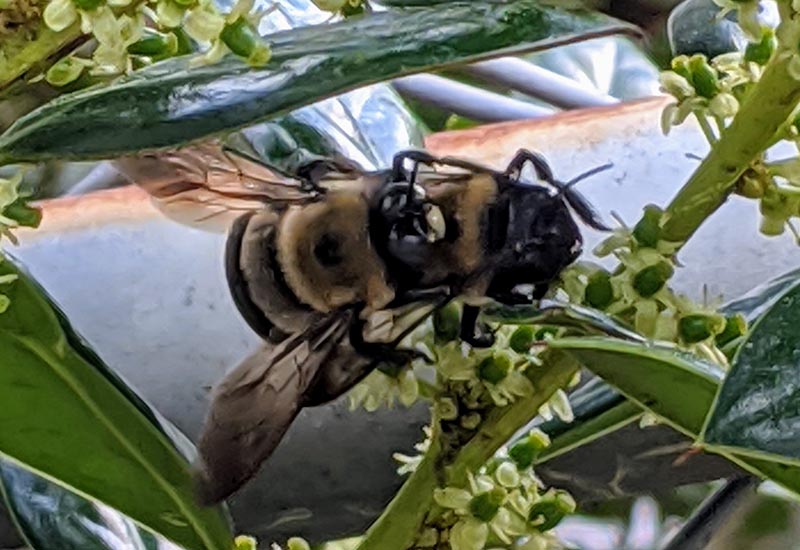 Hoverflies Vs. Bee Flies
Hoverflies and bee flies are two other insects that can be mistaken for bees due to their black and yellow coloration.
Eyes: Hoverflies have large reddish or marbled black eyes, while bee flies have a more standard set of eyes.
Wings: Both have two clear wings, but hoverflies tend to have a distinct hovering behavior around flowers.
Size: They are generally 5 to 15 millimeters long.
Antennae: Hoverflies have short antennae, whereas bee flies usually have longer antennae.
Proboscis: Bee flies have a long proboscis (tongue) for feeding on pollen and nectar.
Table: Comparing Features of Hoverflies and Bee Flies
| Feature | Hoverflies | Bee Flies |
| --- | --- | --- |
| Eyes | Reddish or marbled black | Standard eyes |
| Wings | Two, clear | Two, transparent or patterned |
| Size | 5-15 mm | 7-15 mm |
| Antennae | Short | Longer |
| Proboscis | Absent | Long, present |
| Color Pattern | Black and yellow | Yellow, black, or brown |
Examples:
A small flying insect with reddish eyes and a hovering behavior is likely a hoverfly.
A bug with transparent wings and a long proboscis is probably a bee fly.
Behavior and Habitat
Bumblebees and Honeybees
Bumblebees and honeybees are social insects that live in colonies.
They are known for their role as pollinators, contributing to the ecosystem by helping plants reproduce.
Bumblebees and honeybees inhabit a variety of environments, often nesting in hollow trees or near the ground.
Bumblebees are larger and fuzzier than honeybees
Honeybees have a slender and more streamlined appearance
Both can sting, but bumblebees can sting multiple times while honeybees can only sting once
Solitary Bees
Solitary bees differ from bumblebees and honeybees in that they do not live in large colonies.
However, they still play a crucial role in pollination.
Solitary bees can be found in various habitats, including gardens, forests, and meadows.
Some common types of solitary bees include mason bees and carpenter bees.
Mason bees prefer to nest in small cavities in wood, plants, or soil
Carpenter bees create tunnels in wood with their strong mandibles
Most solitary bees do not sting, and if they do, it is less painful than other stinging insects
Wasps and Yellowjackets
Wasps and yellowjackets are not bees, but they can look similar to them.
They are also important pollinators but can be more aggressive than bees. Wasps and yellowjackets inhabit various habitats, often nesting under eaves, in trees, or underground.
Wasps have slender bodies and narrow waists
Yellowjackets are typically black and yellow with a smooth appearance
Both types can sting multiple times, and their stings can be quite painful
| Feature | Bumblebees and Honeybees | Solitary Bees | Wasps and Yellowjackets |
| --- | --- | --- | --- |
| Body shape | Fuzzy, robust, and slender | Varying shapes and sizes | Slender with narrow waists |
| Nesting location | Hollow trees, near the ground | Cavities, wood, soil | Eaves, trees, underground |
| Sting | Can sting (once or multiple times) | Rarely sting, less painful | Multiple times, painful |
| Pollination role | Significant | Significant | Important, but lesser role |
| Aggressiveness | Generally gentle | Peaceful | More aggressive |
Anatomy and Adaptations
Proboscis and Mouthparts
Big black flying bugs that look like bees might actually be black flies or certain types of bumble bees.
These insects have a proboscis, which is a long, tube-like structure used for feeding on nectar or other liquid substances.
Black Flies: Short mouthparts with sharp mandibles for biting.
Bumble Bees: Long proboscis for reaching deep into flowers.
Some examples of these insects are carpenter bees, ceratina, and digger bees.
Wings and Legs
All bees have two pairs of wings and six legs. However, the size and shape of these structures can differ among species.
Here's a quick comparison of black flies and bumble bees wings and legs:
| Feature | Black Flies | Bumble Bees |
| --- | --- | --- |
| Wings | Large, fan-shaped | Smaller, rounder |
| Legs | Short, robust | Longer, hairy |
Eyes and Antennae
Eyes and antennae are crucial for sensing and navigating the environment. Big black flying bugs have large compound eyes and short antennae.
Black Flies: Large compound eyes for better vision.
Bumble Bees: Hairy compound eyes for better detection of flowers and their colors.
Types of Mimics and Imposters
Bee Mimics
Bee mimics are insects that resemble bees in appearance but belong to different families. Some common examples include:
Carpenter bees: These large, black bees are often mistaken for bumble bees. Carpenter bees have a shiny, hairless abdomen, while bumble bees have a fuzzy, hairy abdomen.
Black bee: Another bee lookalike, the black bee imitates the appearance of bumble bees but lacks the characteristic yellow stripes.
Bee-Flies and Bee Beetles
Bee-flies (Bombyliidae): These insects resemble bees but belong to the fly family. They have large eyes and only one set of wings, while bees have smaller eyes and two sets of wings.
Bee beetles: Despite their name, bee beetles are not bees at all. They mimic bees to ward off predators with their strikingly similar appearance.
Comparison Table
| Characteristic | Bee Mimics | Bee-Flies | Bee Beetles |
| --- | --- | --- | --- |
| Wings | 2 sets | 1 set | 2 sets |
| Eyes | Small | Large | Varies |
| Abdomen | Fuzzy | Smooth | Smooth |
| Legs | Multiple colors | Long front legs | Sturdy |
Cicada Killers and Horntails
Cicada killers: These large, solitary wasps resemble hornets and might be mistaken for bees. They have similar markings and body shapes, but cicada killers prey on cicadas, unlike bees.
Horntails: These are wood-boring insects that can resemble bees or wasps in appearance. Their long, pointed abdomen and distinctive markings make them easily mistaken for bee-like insects.
Conclusion
In the diverse world of insects, certain large black flying bugs can be easily mistaken for bees.
These insects, such as the black fly and bee fly, have distinct features that set them apart.
Black flies possess a robust body, large compound eyes, and short antennae, while bee flies, from the Bombyliidae family, have a stout body covered in hairs and a long proboscis for feeding.
Bumblebees and carpenter bees, though similar, can be differentiated by their coloration, size, and behavior.
Similarly, hoverflies and bee flies, despite their resemblance to bees, have unique characteristics like eye size and wing behavior.
Recognizing these differences is crucial for understanding their ecological roles and behaviors.
Reader Emails
Over the years, our website, whatsthatbug.com has received hundreds of letters and some interesting images asking us about these insects. Scroll down to have a look at some of them.
Letter 1 – Bee Fly from Greece: Satyramoeba hetrusca
Subject: big black fly
Location: Thessaly, Greece
August 7, 2016 9:16 am
Hello,
I photographed this fly in an olive grove near the sea.
Any idea what it is?
Signature: afilitos
Dear afilitos,
This is one stunning fly.  We thought it resembled a Bee Fly in the family Bombyliidae, and our suspicions proved correct when we found it identified as a Bee Fly, Satyramoeba hetrusca, on FlickR where it states:  "A relatively uncommon summer species on Lesvos.
It is one of the larger bee flies, about 15-18 mm in length."  We verified the ID on iNaturalist, and the French language site La faune de Crete et parfois aussi d'ailleurs has some information, but it is in French, which we do not read. 
We could understand enough to deduce it is active on Crete from June or July until September or October, and like many Bee Flies, it parasitizes the nests of Carpenter Bees.
Letter 2 – Bee Fly from UK
What's this bug?
Hi,
I'm in the uk, so I don't know if you can help, but I saw this amusing fly (?) yesterday, and wonder what it is? It has a very long nose, which was a bit yellow with pollen.. but its wings and eyes looked like a flies'. Thank you for looking!
Kate Ward
Hi Kate,
Your fly is a Bee Fly, most probably Bombylius major which is the most commonly seen of the dozen species of Bee Flies found in the UK.
Letter 3 – Bee Fly from South Africa
Subject: What is this?
Geographic location of the bug: Knysna, South Africa
Date: 01/17/2019
Time: 02:51 PM EDT
Your letter to the bugman: I found this interesting fella on a farm during December. I'd love to know what it is. I spotted it twice. Flies short distances and appeared to stay quite low to the ground.
How you want your letter signed: Janine
Dear Janine,
This is a wonderful image of a very striking looking Bee Fly in the family Bombyliidae, but alas, providing a species identification is proving to be difficult.  We did locate a matching image on Southern Africa Nature Photography and the blogger Selwyn Quan notes: 
"The Bee flies (Family Bombyliidae) in South Africa have been very impressive. They are more than double the size of the Bee flies I usually spot in California, USA.  There is however a dearth of resources on the internet regarding identification of Bee flies of South Africa." 
We believe we eventually identified your individual as Bombomyia discoidea based on this iSpot posting and this iSpot posting.  Encyclopedia of Life has a nice image of a sexually dimorphic mating pair.

Letter 4 – Large Bee Fly
What's this fly?
Hi,
I have sent you a couple of pics a while back and I believe I have found the names of two of the three unknown; a yellow jacket and a bald face hornet. I have not found the name of this little fly yet. I am sending three pictures of this little creature that let me observe it while it was collecting pollen from Aster flowers.
It let me get real close; my macro gear needs to be 8-9 inches from the subject for a picture like the face shot. I landed on your site while I was searching for names of insects I observed; it's now in my favorites and I visit it on a daily basis to see the new posts. I hope you can identify this little fly.
Guy Côté
Montréal, Qc.
Hi Guy,
Sorry to have not answered your first letter. On busy days we get as many as 50 letters and can only answer about four or five. We choose at random. This is a Large Bee Fly in the genus Bombylius. Adults drink nectar and larva is a parasite in the nest of solitary bees.
Letter 5 – Bee Fly is a Bee Mimic
Help
I'm having trouble identifying this bee? It was photographed in Cook county Illinois yesterday. I am a volunteer with the restoration of the Grassland Prairie in Orland Park called Orland Grassland. Thank you for any help you can give me.
Suzanne Koglin
Hi again Suzanne,
You cannot identify your bee because it is not a bee. Eric Eaton has corrected us on the Family here. He says it "is actually a bee fly of some sort (family Bombyliidae)." Bee Flies, are true flies and friends of the gardener.
Most species have larva which parasitize beetle larvae, wasps, bees and other burrowing insects. Adults are often seen hovering near flowers which they pollinate. Many species mimic bees and wasps as a defense mechanism. Flies have two wings while bees and wasps have four.
Letter 6 – Hunchback Bee Fly
Interesting fly…?
Hello!
I came across this interesting insect in the Big Hammock Natural Area along the Altamaha River in Georgia. These shots were taken mid September along the river. I thought it may have been some sort of fly, but the antennae and abdomen seemed curious to me.
I can only see one set of wings in the photo and it flew too fast for me to tell if it had more than a pair. I believe the plant in the photo is Rabbit Tobacco (Pseudognaphlium obtusifolium). This plant was almost completely covered by lovebugs. I've never come across something like this, any idea?
Anthony
Hi Anthony,
This is a Hunchback Bee Fly which we identified on BugGuide. We suspect the species is Lepidophora lutea because of the yellow scales on the forth segment of the abdomen. The larvae are parasites on solitary wasps.
Letter 7 – Mating Small-Headed Flies, not Bee Flies
Hello, I have tried to get an ID on this insect.
The picture is taken in in Northern California (the foothills of the Trinity Alps) at about 2000 elevation. Here are two different photos. Thank you for any help you can give me.
Jim
Hi Jim,
We incorrectly identified these as Bee Flies, but you have set us straight.
Thank you so much for the compliment on the photos. I appreciate your time. At the same time I contacted you, I also went to a couple of other sites and found this identification: http://bugguide.net/node/view/40630 There seems to be a bit of difference between your ID and the ID on this site.
I am not an entomologist but, rather, a hobby photographer who was curious about my find. Do you think the bugguide is on point? Again, thanks for taking the time and have a nice rest of the weekend.
Jim

Hi again Jim,
We will generally change our identifications if BugGuide, which is awesome, differs from us. If BugGuide believes these to be mating Small-Headed Flies in the Genus Eulonchus, we believe it.
Letter 8 – Bee Fly from the U.K.
What is this please?
Hello bugman,
having looked through many websites without any success, you are my last hope! On 5th April whilst hanging out the washing at about 9am, I found this strange bug sitting on a peg on the washing line. There had been a frost that morning and the bug seemed very dozy!
I was able to move the peg and bug so that I could photograph it (see attached). I took a couple of photos and put the peg and bug back where I found it. The bug had flown off by lunchtime that day. I live in Oxfordshire, UK and never seen anything like this before around here – can you help? Many thanks,
Gary
Hi Gary,
This is a Bee Fly in the family Bombyliidae. It looks very similar to the North American species in the genus Bombylius. Bee Flies are true flies with two, not four wings, and they feed on nectar and pollen.
Cool! This is Bombylius major, the Greater Bee Fly. This is the largest bee fly in England and the most commonly seen. The species occurs through Eurasia, and through the USA and most of Canada, and, according to what I read on BugGuide, it is the only species in these areas that has that crisp black and clear wing pattern.
There's lots of info and pictures of this critter on-line, including a very good entry on BugGuide. For some UK examples see: http://www.kendall-bioresearch.co.uk/beefly.htm and http://www.gwydir.demon.co.uk/insects/bombyliidae.htm
Susan
Letter 9 – Greater Bee Fly
Bee or fly or moth?
Hi Lisa and Daniel,
What's That Bug is one of my daily stops–I love seeing all the new bugs people send in, and I have used your site to identify many insects I've photographed, not to mention just browsing through all the beautiful bugs in your galleries! I have an identification question for you.
The last few days I've encountered these insects flying around the edges of a small open field behind the gardens at my college in upstate New York. They're between a third and a half an inch long, and they are very good at hovering. As you can see, they're almost bee-shaped and -colored, and their wings are clear with darkish veins, I think (it was hard to tell since they were always moving).
It seems like a bee, but I've never seen a bee with legs that long. I know some moths hover and mimic bees, but I thought those species were larger than this. It can hover in place very precisely, which makes me think hoverfly, but they're not usually furry. I've tried all of these descriptions on your site and on google, but no success. Any ideas? Thanks,
Susan
Hi Susan,
Thanks for the compliments. Your insect is a Greater Bee Fly, Bombylius major.
Letter 10 – Greater Bee Fly
Bee fly on grape plant
I found these bee flies on young grape plants in my backyard in Dallas TX. Bombylius major I believe. Have you known these to be a problem in vineyards? Curiously, they just landed on my Zinfandel and Shiraz grape plants, but not my Black Spanish plants which are Pierce Disease resistant (my first worry was the glassy-winged sharpshooter). Zinfandel and Shiraz are vitis vinifera (European) plants. Thanks,
Richard Jernigan
Hi Richard,
The Greater Bee Fly poses no threat to your vines. The adult Greater Bee Fly is a pollinator, and in that sense it is beneficial. The larvae though are parasitic on Solitary Bees, and in that sense, while not injurious, they might have an adverse effect on pollination done by the bees.
Letter 11 – Greater Bee Fly
Never seen this Insect before
Sun, Mar 29, 2009 at 1:56 PM
Got these photos at work. the bug was just sitting there. Someone said it was a bee, but I didn't think so. Sorry about the quality of the second one.
Brian Lee
Wilmington, North Carolina, USA
Hi Brian,
What a great photo of Bombylius major, the Greater Bee Fly. This species if found in most of the U.S. and Canada as well as Europe. You can read more about this species on BugGuide.
Letter 12 – Greater Bee Fly
bee like insect
Sat, Apr 4, 2009 at 1:13 PM
Found him sitting on the washing line. Sat there with his wings buzzing for ages. Smaller than a bee. paler in colour. Saw him on the 31st March. ….
Jill Cotter
London, east finchley
Hi Jill,
What a noble pose you have captured on this Greater Bee Fly. This species has an extensive range that includes most of North America and Europe.
Letter 13 – Greater Bee Fly
Bug found on Daffodil
April 5, 2010
Noticed this bug at about 10 am on a daffodil leaf. It remained still for about 20 minutes, even when the leaf was moved to take the photos. After returning from shopping about an hour later it was gone.
Image 1 is of it from the front, Image 2 and 3 are of it from the above.
Anything.
Urban Suburb, on a Daffodil in front garden
Dear Anything,
The Greater Bee Fly, Bombylius major, as depicted in your photograph, ranges from coast to coast in North America as well as Eurasia.
Letter 14 – Greater Bee Fly from England
unusual fly/bee?
Location: Broadstone, Dorset.
March 29, 2011 1:38 pm
please could you identify the bug in the attached photos. I have never seen one like this before. It was found dying in my conservatory on 29th March 2011 at 4.30pm.
Signature: Mike Brooke
Hi Mike,
Your confusion is understandable. This is a true fly known as the Greater Bee Fly, Bombylius major, and it ranges throughout much of North America as well as Eurasia. It is typically seen in the spring. The wing pattern is quite distinctive.
Letter 15 – Mating Bee Flies
Subject: Mating Bee Flies/Bee Mimics?
Location: Northeast Florida
September 3, 2012 2:30 pm
I've seen these insects in flowers in our yard and assumed they were bees. Today I came across a mating pair and took photos, and after searching here and at BugGuide, I think they may be Bee Flies or Bee Mimics? The one on the right kept trying to fly away, but the one on the left just kept dragging the other one along from place to place.
Signature: Karen in FL
Hi Karen,
As we frequently do when we need to research or verify some North American bug, we turned to BugGuide where we identified these mating Bee Flies as Poecilanthrax lucifer. According to BugGuide, "The larvae feed on the moth larva of members of the family Noctuidae."
Letter 16 – Greater Bee Fly
Subject: What is this please?!
Location: Bedfordshire, England
April 8, 2013 7:16 am
Hello Bugman,
I've seen this insect for 2 days so decided to get some pictures! I have never seen anything like it and can't indentify it from the internet.
It appears to have a 'sting' or solid long thing coming from it's head.
It has been seen 7th April and 8th April 2013 in Bedfordshire, England. Both times it was around 2pm
Please can you help?
Signature: Mrs B, England
Dear Mrs B,
Your insect is a Greater Bee Fly, Bombylius major, and it is found "throughout most of NA (Canada and the US to Baja) and Eurasia" according to BugGuide. The Greater Bee Fly is a harmless pollinating insect that uses its long proboscis to take nectar from flowers. You may also read about them on UK Safari.
Letter 17 – Greater Bee Fly
Subject: fly/mosquito/moth/wasp
Location: New Jersey, USA
May 5, 2013 6:46 am
this guy seems to be a combination of the 4
Signature: Susan
Dear Susan,
When the common name for Bombylius major was given, someone noticed that this True Fly had some physical traits that resembled those of a Bee, hence the moniker Greater Bee Fly.  Indeed, the scientific binomial shares an ancient root with the tribe of Bumble Bees which is Bombini. 
The Greater Bee Fly is also found in Europe, including the UK, and it is unknown to us where the species originated.  Your interesting subject line really caught our attention. BugGuide has this description of members of the Bee Fly Family Bombyliidae: 
"Hairy, often brightly colored flies. Legs usually slender, Wings often have dark markings, held outstretched at rest. Face not hollowed out. Eyes almost touching above, especially in males. Proboscis either short with broad tip, or long and used to take nectar. Hover and dart, rather like syrphid flies. Females sometimes seen hovering over sandy areas, dipping abdomen to oviposit." 
Additional information on diet includes:  "larvae are mostly external parasitoids of holometabolous, esp. soil-inhabiting, larvae (Coleoptera, Hymenoptera, Lepidoptera, Diptera), slowly consuming the host completely without making a visible wound; a few are endoparasites, predators (esp. on grasshopper eggs), or kleptoparasites; adults take nectar/pollen" and the life cycle is described as: 
"larvae undergo hypermetamorphosis: 1st instar larva is active and penetrates the host's nest, then turns into a sedentary parasitoid; pupa is equipped with spines/spikes to drill out of the nest."
Fascinating! Thanks so much!!
Letter 18 – Greater Bee Fly from the UK
Subject: Bee/Wasp??
Location: Medway, Kent, UK
April 10, 2014 5:28 am
Hi, I'm from Medway, Kent in the UK.
Whilst on my lunch break today in the park I noticed this bug hoovering by my feet. It had 6 legs, wings, was orangey in colour, with a pointy thing (to collect nectar??) at the front of it's face? and it's body when viewed from above was triangular.
I've never seen this before? The weather here has been a misture of cloudy sun and rain with an average temperature of 13 degrees. It was approx the size of an average bee or wasp.
Signature: Claire
Hi Claire,
This is a Greater Bee Fly, Bombylius major, a fly that mimics bees and it does gather nectar with that long proboscis. You can read more about the Greater Bee Fly on the Natural History Museum website.
Letter 19 – Greater Bee Fly
Subject: Bee or Fly?
Location: Andover, New Jersey
April 19, 2014 9:10 am
I found several of these little guys sucking up nectar on some hyacinths this morning. Haven't seen these before and am thinking that it is some sort of mimic fly? Hoping you can help.
Signature: Deborah Bifulco
Hi Deborah,
These are amazingly detailed images of a Greater Bee Fly, Bombylius major, a species that if found in Europe as well as North America. As you have surmised, this is a fly that mimics a bee, and it is a pollinating species. Greater Bee Flies generally make their appearance early in the spring.
Letter 20 – Bee Fly: Poecilanthrax effrenus
Subject: Bee Fly?
Location: Las Vegas, NV
August 6, 2014 5:29 pm
I recently encountered this beautiful insect at the Springs Preserve in Las Vegas, NV. I immediately noticed it because of the beautuiful markings on it's wings and its lovely reddish brown coloration. I tried looking it up in a few books and scoured the internet, but I've not found an exact match. Any guesses?
Signature: Renee M. Grayson
Hi Renee,
We agree that this is a Bee Fly, and we are going to try to identify it more specifically.  After a bit of searching, we believe we have correctly identified your Bee Fly as Poecilanthrax effrenus because of the numerous similar images on BugGuide. 
According to BugGuide:  "A southwestern and Mexican species which has the abdominal ground color broadly marked with orange, the black color usually triangular in shape and confined to the dorsum. The hair on the abdomen is predominately black; on the sides there is black hair from segments two to six.
The wings are evenly colored with dark brown, the veins at the base of the wing are bright orange. The second submarginal cell is nearly entirely hyaline and the hyaline spot in the discal cell is quite definite."
Letter 21 – Greater Bee Fly from UK
Subject: Do you know what this bug is?
Location: Chester England UK
April 19, 2015 7:44 am
Found on doorstep have posted on Facebook but none of my friends recognise it.
Signature: Karen
Dear Karen,
This is a Greater Bee Fly, a harmless pollinating insect that is found in North America as well as Europe.
Letter 22 – Greater Bee Fly from England
Subject: a bee or not a bee; that is the question…
Location: Northern England
April 20, 2015 9:11 am
Sorry – couldn't resist! This little fellow was alongside a bumble bee on my muscari this morning and I managed to get two photos. I can't remember seeing one before. Please help 🙂
Many thanks
Signature: regards, Heather Cahill
Dear Heather,
This is NOT a Bee, but rather, a Greater Bee Fly, a harmless pollinating insect. Flies have a single pair of wings while other flying insects have two pairs of wings.
Letter 23 – Mating Bee Flies
Subject: STILETTO FLY?
Location: Ouachita Mountains, Ark.
August 10, 2015 6:50 pm
Hi! Are these Stiletto Flies? Photographed on a small bridge overlooking a creek in Fannie, Arkansas. Only one photo of them mating before they left. Summer, Aug. 10th. Is this a common variety?
Signature: Bill Burton
Dear Bill,
Though they resemble Stiletto Flies, we cannot find a matching image on BugGuide. Among the most noticeable diagnostic features for us are the posterior edge of the eye having an unusual concave feature and the spacing between the eyes being almost equal between the male and the female. We have requested assistance from Eric Eaton and we hope he can provide an identification soon.
Eric Eaton Identifies mating Bee Flies
Daniel:
I do recognize these as bee flies, family Bombyliidae. I don't recognize the genus offhand. Herschel Raney's "Random Acts of Nature" website might have pages devoted to bee flies of Arkansas. I know he has lots on Arkansas *robber* flies…..
Eric
author, Kaufman Field Guide to Insects of North America
http://bugeric.blogspot.com/
Ed. Note: We scanned the images on Random Natural Acts and BugGuide, but we could not conclusively identify these mating Bee Flies. Assistance from our readership is always welcomed.
Letter 24 – Bee Fly from South Africa
Subject: Bee or not?
Location: Alexander Bay, South Africa
February 18, 2016 2:19 am
Hi there! I found this little guy buzzing around in my garden, and can't find any photo on Google that looks like it. Would love to know what it is!
Signature: Adri
Dear Adri,
Though it looks and acts like a Bee, this is actually a Bee Fly in the family Bombyliidae and we located this image on iSpot that looks like your individual, and it is identified as being in the genus Bombomyia. Here is another matching image from iSpot. Bee Flies do not sting nor do they bite. They are beneficial pollinators.
Letter 25 – Bee Fly from South Africa
Subject: Bee-Fly Hybrid
Location: Pretoria, South Africa
May 13, 2016 6:20 am
Hello!
This creepy fellow wandered into the office this afternoon.
It makes buzzing sounds, like a bee, has the furry coat and the black and yellow stripes.
Its thorax is more round and compact than a regular bee and the stripes are also much more condensed. It has a very long snout/needle/mouth, although it is very small.
Our office is located in a bushveld type of landscape, and we also use recycled water (not sewage, obviously) as irrigation for our very big garden.
I sincerely hope you can help identify this stinger!
Signature: Charlottha Kruger
Dear Charlotta,
While this is not a hybrid, it is a member of the family Bombyliidae whose members are called Bee Flies because they are true Flies that mimic Bees. What you have called a stinger is actually the proboscis or mouth which is adapted to drink nectar from blossoms while the Bee Fly hovers. We were not able to identify its species on iSpot.

Thank you tons for getting back to me! J Good luck with your future bug-identnifications!
Letter 26 – Bee Fly in Mount Washington
Subject: Bee Fly, Villa lateralis
Location: Mount Washington, Los Angeles, California
September 13, 2016 5:20 PM

Late this afternoon, I noticed one more brown Bee Fly and two other black and white Bee Flies, that all looked quite similar except for the coloration, in a sunny area getting the late afternoon light.  The two black and white individuals were buzzing one another near the blossoming chives. 
By the time I returned with the camera, only one individual remained, and we are pretty certain we have correctly identified it as Villa lateralis, first on the Natural History of Orange County site and then on BugGuide. 
According to BugGuide:  "Widely distributed in North America including Puerto Rico and South to Panama."  Upon viewing the other members of the genus on BugGuide, we can't help but to wonder if the brown Bee Fly we saw was the related Villa miscella.  Though we did not get an image, our memory was of it having brown on the wings.
Letter 27 – Greater Bee Fly from the UK
Subject: Mystery insect?
Location: South east, U.K.
March 24, 2017 10:29 am
Haven't ever seen this type before would love to have it identified.
Signature: Alexa
Dear Alexa,
Please forgive us for making a bad joke, but aren't you supposed to have all the answers? This is a Bee Fly, most likely Bombylius major which is pictured on NatureSpot where it states: " A strange looking insect with its furry body and patterned wings. The long proboscis is used for drinking nectar and the fly is totally harmless."
Haha exactly! Thank you for getting back to me so quickly!
Letter 28 – Greater Bee Fly from the UK
Subject: Please help me identify this bug
Location: Southampton, UK
April 20, 2017 2:53 am
Hi Bugman!
Love your site, great idea! I am hoping you can identify a bug for me… This was spotted in South of UK over the Easter Weekend (16th April), it seemed to have a long proboscis!
Can you help?
Thanks,
Signature: Will
Dear Will,
The Greater Bee Fly, Bombylius major, is found in Europe as well as in North America. It is a harmless species that helps to pollinate flowers. According to Wildlife Watch: "The larvae are nest parasites of ground-nesting bees, feeding on the bee grubs."
Wow! What amazing service, thanks Bugman! 🙂
A really interesting fly then – looks like it mimics a bee but is really a fly…
Will
Letter 29 – Bee Fly from Mexico
Subject: stange stinger fly
Location: Puerto Vallarta
July 26, 2017 7:54 pm
What is this? I am in Puerto Vallarta, Mexico. This was on my kitchen screen. I trapped and released.
Signature: Barb
Dear Barb,
Your image is too blurry to provide a species identification, but we are relatively certain you encountered a harmless Bee Fly in the family Bombyliidae
Letter 30 – Greater Bee Fly
Subject: unidentified flying pollinator
Geographic location of the bug: Hillsborough, NJ, USA
Date: 04/23/2018
Time: 09:16 PM EDT
Your letter to the bugman: Greetings:
I saw something pollinating some Spring Beauties on April 21. I assumed at the time that I was getting photos of some sort of bee, but when I got a closer look at the pictures when I got home I got more of a fly (or mosquito?) vibe from it. Can you give me an idea of what this is?
How you want your letter signed: John
Dear John,
You are correct that this is not a Bee. It is a Greater Bee Fly, Bombylius major. According to BugGuide: "A common and widespread bee fly, often seen taking nectar on early spring wildflowers or seen hovering in sunny patches in woodlands" and "adults fly from March to May (most common in April)."
Greetings:
Thanks – that sure looks like the little fella I saw last weekend. We've had a colder-than-average spring so flowers are just kicking into gear and I'm not seeing many pollinators yet. This guy turned out to be a little more interesting than I expected.
John
Letter 31 – Bee Fly from Canada
Subject:  Maybe a new bug specie
Geographic location of the bug:  Montreal, Cote-des-Neiges Minto appartments,Quebec,Canada
Date: 04/13/2021
Time: 03:23 PM EDT
Your letter to the bugman:  I may have found a new bug, I search images of it but found none, i am still 11 years old i found it away from grass, It seemed to move,
It had a long black nose like a needle, 2 front legs and 2 back legs they were skinny I don't know if he had 4 or 6 legs, it ha black and clear wings, it was very small and was fuzzy, it was all yellow/beige but in its back it was a black circle, it did no harm and when we touched it ,it moved but didn't fly away.I found it with my little sister.
How you want your letter signed:  Lilya (the future scientist)
Dear Lilya (the future scientist),
First let me congratulate you on knowing that you want to be a scientist at such a young age.  This is actually a Bee Fly in the family Bombyliidae, most likely the Greater Bee Fly, Bombylius major, which is pictured on BugGuide. 
According to BugGuide:  "A common and widespread bee fly, often seen taking nectar on early spring wildflowers or seen hovering in sunny patches in woodlands."