Subject: Millipede??
Location: Frederick County, Maryland
October 19, 2013 8:08 am
Hi. Saw this guy up on the rocks in the mountain – Frederick County Reservoir Area, Maryland. Friday, October 18, 2013. He was at least four inches long. Moving fairly fast …
Signature: photogirl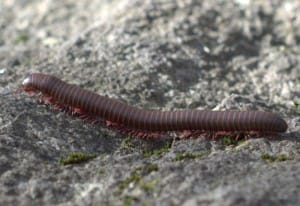 Dear photogirl,
We believe we have correctly identified your Millipede as a Worm Millipede AKA American Giant Millipede, Narceus americanus-annularis-complex, which BugGuide describes as:  "Usually dark reddish-brown with red edges on each segment. The most commonly-seen large millipede in its range."  We were searching through interesting, recent, unanswered requests so that we could postdate a few submissions to go live in early November while when we will be away from the office.