Subject: Orange Cat
Location: Andover, NJ – backyard
September 24, 2013 7:33 am
I'm totally stumped by this one and hope you can help. It is a distinctive orange color with some yellow spots just above the face. The face is black/white and the tail has a point. It has some fine hairs, but is mostly hairless. It was making its way across a pavered walkway in our garden, apparently heading for the mulched area? Length, approximately one inch.
Signature: Deborah Bifulco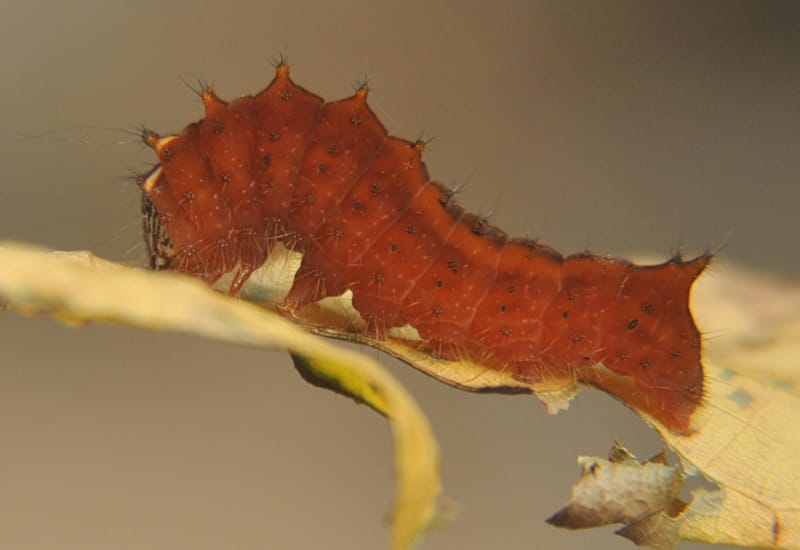 Hi Deborah,
Other than figuring that this is a Moth Caterpillar, we haven't a clue either.  We will post your photos and we hope someone will write in with a closer identification.  We cannot even provide a family at this time.
Thanks for getting back to me,  Daniel.  I've also sent the photos to several local naturalists and so far ,  no one can identify it.  Quite a mystery.  I will drop you a note if I learn anything.
Update:  September 25, 2013
Thanks to a comment from one of our readers, we now know that this is a Clear Owlet Moth Caterpillar, Acronicta clarescens.  There are matching photos on BugGuide.
Hi again,
Just wanted to let you know that I found a local naturalist who identified this as a Clear Dagger Moth caterpillar (Acronicta clarescens).  Mystery solved…
Debbi