Pigeon Horntail
Hi WTB…
I found a bug on your site I could not ID. THANK YOU! Interesting enough, you have indicated that it's found in forests of the Northeast. This guy was photographed on the sidewalk in front of my house in Round Lake, Illinois (far Northeast corner). It's not the first time I have seen this species but was the first time I had a camera available. Here are two views.
Thanks for the great web site!
Robert Fesus
Buffalo Grove, Illinois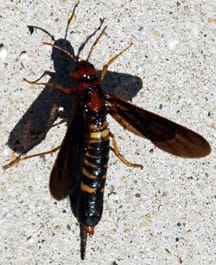 Hi Robert,
We just love it when people look at our site for research and identification. Thanks for the images. When we first posted stories about Pigeon Horntails, we could only locate one image on the web, which we pilfered. Thankfully, we now have several sent to us directly.