new bugs
Hello,
Enclosed are a few things I thought you might like. The first is an interesting little grasshopper I found at work with very long back legs. The second is a TINY praying mantis nymph I found right outside my door. The third is something I've never seen before, and I have yet to locate one on your website. I have no idea what it is, but I would chance that it is female, as it has an enlarged abdomen and a possible ovipositor. I would love to know what this is. I really like it, and it's one of the better pictures I've taken. Any help would be appreciated. Thank you!
Cat
So I looked around some more, and I guess that it's a snakefly. I had never heard of them before, but I finally came across it because I realized it reminded me of a lacewing. Oh well. In any case, I hope you like the picture! Thanks!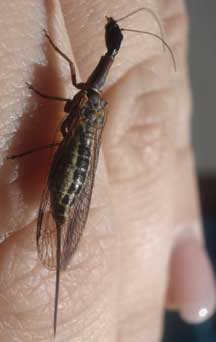 Hi Cat,
We are very happy to hear that our site enabled you to identify your own Snakefly. We love promoting research empowerment. Your photo is also a much welcomed addition to our site.