Subject: POTATO BUG
Location: SAN BERNARDINO, CALIFORNIA
April 1, 2013 1:04 pm
DEAR BUGMAN,
I HOPE YOU CAN GIVE ME SOME INFORMATION ON THESE SCARY BUGS. I HAVE FOUND HUNDREDS IN MY BACKYARD WITHIN THE PAST 6 MONTHS. (SAN BERNARDINO, CALIFORNIA) I HAVE SOME IN CAPTIVITY, AS SEEN IN PHOTOS, AND AM WONDERING WHAT I CAN FEED THEM. SO FAR THEY SEEM TO RATHER FEED ON EACH OTHER. THEY ARE PRETTY AGGRESSIVE AND RUTHLESS AND BATTLE TO THE THEIR DEATH. ANY INFORMATION OR SOURCE WOULD BE MUCH APPRECIATED. THANK YOU.
Signature: S. WOLFF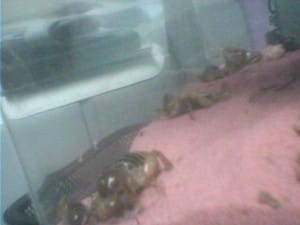 Dear S. WOLFF,
Your request arrived when we were out of the office and we are just catching up on all the mail we received.  We are unclear if this is a joke or not as it arrived on April Fools' Day.  It appears by your subject line that you already know that these are Potato Bugs or Jerusalem Crickets in the genus Stenopelmatus.  According to BugGuide, Potato Bugs are "Predatory on other insects, also feeds on roots, decaying vegetation. Sometimes found eating potatoes."  Keeping them in captivity and not feeding them and forcing them to cannibalize one another seems cruel.  You should be able to find plenty of information on Potato Bugs online.  They are a southern California icon.

I WOULD THINK I COULD FIND A TON OF INFORMATION ON THEM BUT HAVEN'T HAD ANY LUCK, ANY SUGGESTIONS WOULD BE APPRECIATED. WE HAVE TRIED ALL KINDS OF THINGS TO FEED THEM FROM OTHER INSECTS TO BEEF JERKY, CHEESE, LETTUCE, EVEN A PIECE OF A WAFFLE. I SAW A YOU TUBE VIDEO OF ONE ACTUALLY EATING THE WAFFLE BUT WE HAVEN'T HAD MUCH LUCK. THE ONLY THING THEY ACTUALLY DID EAT WAS A TERMITE BUT LUCKILY WE DON'T HAVE A LOT OF THOSE AROUND. I HAVEN'T FORCED THEM TO CANNIBALIZE ON EACH OTHER. ALMOST IMMEDIATELY  AFTER WE CAPTURED THEM THEY BATTLED IT OUT AND THE WINNERS GOT TO EAT. THE ONLY TIME WE HAVE EVER FOUND TWO IN THE GROUND NEXT TO EACH OTHER WAS WHEN ONE WAS EATING THE OTHER. THANK YOU.
S. WOLFF
We find it hard to believe you cannot find any information on Potato Bugs online, or are you specifically searching for information on keeping them in captivity?  We understand they make good pets, but perhaps they cannot be kept in a social situation.  Perhaps they really do not adapt to life in captivity.  Try contacting your local natural history museum for information.  We are unable to provide any information on keeping Potato Bugs as pets.  We have amended the title of our posting so it no longer indicates they are being "forced" to cannibalize one another.
THANK YOU FOR AMENDING YOUR POST. THE ONLY INFORMATION I COULD FIND WAS GENERAL STUFF, NOTHING ON HOW THEY REPRODUCE. WE DID HAVE SOME LUCK FEEDING THEM SOME KIND OF SMALL WORM TYPE BUG. TWO OF THEM ACTUALLY SHARED IT AND ARE  NICE PLUMP AND CONTENT FOR THE MOMENT. THANKS AGAIN.
S. WOLFF
Dear S. Wolff,
We hope you will give us regular updates on your Potato Bugs in captivity.
UPDATE:  May 2, 2013
GREAT NEWS, WE FOUND SOMETHING THOSE POTATO BUGS LOVE TO EAT. MULBERRIES. I WAS TRYING APPLES AND CARROTS WHICH THEY ALSO REALLY LIKE BUT WHEN I PUT SOME OF THOSE BERRIES IN THEY WERE ALL OVER THEM. I ALSO FOUND A REALLY BIG AND FAT ONE, LOOKS PREGNANT SO I AM GOING TO PUT IT INTO ITS OWN QUARTERS SO NONE OF THE OTHERS CAN BOTHER IT. I DON'T KNOW MUCH ABOUT HOW THEY REPRODUCE BUT THAT WOULD BE COOL.
S WOLFF
What wonderful news.