(06/07/2008) Hoverfly
Here's a picture of a hoverfly I took in my garden. I live in the San Francisco Bay Area and I took this during April on a pea plant. It's a pretty common hoverfly (as in I found it on Google), but I was just wondering what it was doing on my pea plant. I think I might have been laying eggs where there were aphids (it was hovering around my cabbage as well). There was another picture of this fly on your site. I think it's a Scaeva pyrastri.
Brandon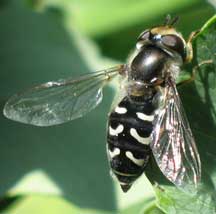 Hi Brandon,
Thank you so much for sending us your image of a correctly identified Hover Fly, Scaeva pyrastri. According to BugGuide, a larva may consume 500 aphids in its lifetime. We will, however, correct some grammar. When the descriptive common name for an insect includes multiple words, like hover and fly, they may be joined or kept separate, but they do follow certain rules. A Hover Fly is a true fly, so the words are kept separate. A Dragonfly, Dobsonfly and Butterfly are not true flies, so the words are connected.