Wasp or Dragonfly?
July 19, 2009
While hiking around in the Umatilla National Forest near the Washington/Oregon border, the wife and I stumbled upon this little guy. Luckily the wings were still damp and it was unable to fly away. It was about 3-3 1/2 inches in length and as you can see it just seems exotic.
Peter H.
Umatilla National Forest about 25 miles south of Pomeroy WA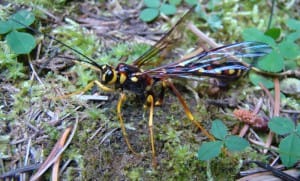 Hi Peter,
Our blood pressure is a bit high right now since we just got done posting our Sixth Nasty Reader Award.  We really wanted to send a nice response after dealing with that.  This is a Giant Ichneumon, most likely Megarhyssa nortoni, as evidenced by images posted to BugGuide.  Giant Ichneumons are non-stinging relatives of wasps.  Your photo is of a female whose lengthy ovipositor is barely visible in the photo.  The female Giant Ichneumon uses her lengthy ovipositor to deposit her eggs in dead and dying wood that is riddled with wood boring larvae.  The larval Giant Ichneumon then feeds on the wood boring insect.