Gaudy Sphinx Moth from Miami, Florida
I love your site and now go to it weekly to see god's creatures. Every day I am more and more amazed at the variety that there is in nature. I now have something to offer your site. I saw this moth outside my front porch in Miami, Florida and was amazed that I had never seen one like that before. It was beautiful and my 14 month old daughter kept pointing at it and calling it a bird. I found the moth on your site and found it to be a Gaudy Sphinx moth that is common in Cuba and up the Florida. I thought you might like another picture to add to your site's collection.
Cesar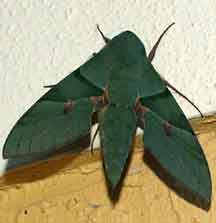 Hi Cesar,
We are always excited to get a new photo of the Gaudy Sphinx, Eumorpha labruscae, and we are thrilled to post it. We have often wondered at the origin of the common name "Gaudy" and are guessing it refers to the outrageously flashy coloration of the underwings, which can be seen on Bill Oehlke's website. Though the origin of the word "gaudy" is not connected to him, we like the tonal association with Antoni Gaudi, the visionary Spanish architect.