Subject:  Moth on my wall
Geographic location of the bug:  Highland CA
Date: 01/31/2018
Time: 01:33 AM EDT
Your letter to the bugman:  We've seen two of these in the past two weeks. This is a picture of the first one. We found wings a few days after it left that look like they have the same pattern. It was rainy when we found the wings. We believe a bird ate it while it was at our door. It has feathery antennae and a large body.
How you want your letter signed:  Leo Wang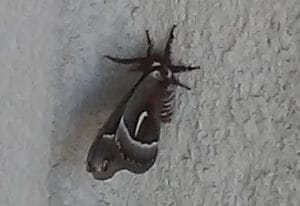 Dear Leo,
You are quite fortunate to have a population of Ceanothus Silkmoths near your home.  Your speculation that an individual was eaten by a bird is a distinct possibility.  Like other members of the Giant Silkmoth family, adult Ceanothus Silkmoths do not eat, and they live only long enough to mate and procreate.