Subject: tiger beetle?
Location: near Holbrook, AZ
October 5, 2013 4:46 pm
Howdy! Long time watcher, first time asker.
I was taking a road trip this summer with a friend of mine, and we stopped by the Petrified Forest National Park in Arizona along the way. Lotsa cool things to see there, but one thing that astounded me were these funny beetles.
There were hundreds of them, and they were hanging out on some sage brush. They were bright green, very nearly matching the color of the leaves. The strange thing was — as many beetles as there were — they tended to be gregarious, hanging out in large numbers on one bush, but none on a bush just inches away. We saw the same thing — lotsa beetles on a single bushes — in several places in the park. This was in mid-July.
Any ideas what this might be? I poked around a bit, and the best I could come up with was some sort of tiger beetle.
cheers,
Signature: Jim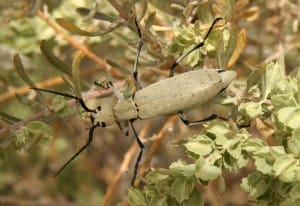 Hi Jim,
Your photos are quite excellent in quality.  We hope you will consider sending us quality images of interesting creatures again in the future.  Tiger Beetles are solitary predators that move very quickly.  This is actually a Blister Beetle in the family Meloidae.  We believe we have correctly identified it as Epicauta longicollis, a species represented on BugGuide by a single photograph that was taken in Dewey , Yavapai County, Arizona this past July.  We originally found Epicauta longicollis pictured on the Yavapai County Arizona Cooperative Extension page of the University of Arizona College of Agriculture and Life Sciences website.  We have learned that Holbrook is in Navajo County.  We are uncertain of the range of Epicauta longicollis.

Cool beans.  Thanks so much!
I probably wouldn't have gotten so close if I had known earlier that it was a blister beetle.  🙂
cheers,
Jim