Subject: What kind of moth is this
Location: Virginia Beach , Va
June 14, 2013 7:07 am
What a gorgeous moth with a 5 in wing span. Literally as big as my hand . Please let me know what kind it is. Been in Virginia Beach for over 20 years and I've never seem one like this. Thanks!
Signature: Jennifer T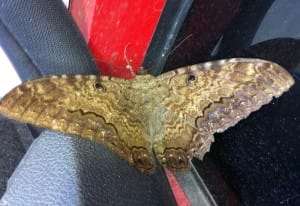 Dear Jennifer,
This is a male Black Witch, a species that has annual migrations north from Mexico each year with some individuals reaching Canada.  These migrations have been documented since the nineteenth century, but it is unclear why the migrations occur since the species cannot survive or reproduce north of the border states.  The Black Witch Moth: Its Natural and Cultural History should answer any additional questions you might have.
Thank You for the quick response!   I looked thru so many photos and they all started to look the same. What a fantastic website!