dainty snowflake worm
August 30, 2009
dear bugman,
what is this? it was on my porch.
bug whisperer
Middle Tennessee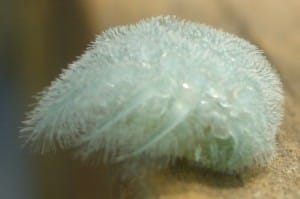 Dear bug whisperer,
BugGuide lists Beutenmueller's Slug Moth Caterpillar, Isochaetes beutenmuelleri, as uncommon.  It is also known as the Spun Glass Slug Moth and caterpillars feed on swamp oak leaves.  Many of the caterpillars in the Slug Moth Family Limacodidae are capable of stinging, but we are unsure is this species has the stinging spines.  Your photo indicates that it probably does.