Subject:  Please identify this bug
Geographic location of the bug:  Northwest Oregon
Date: 08/21/2018
Time: 12:18 AM EDT
Your letter to the bugman:  I found this bug on my sidewalk. I would like it identified as it is the first one I have seen.
How you want your letter signed:  Cliff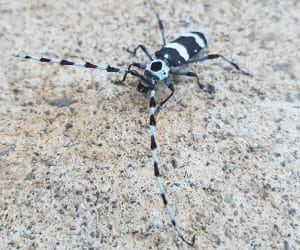 Dear Cliff,
This gorgeous beetle is a Banded Alder Borer, Rosalia funebris.