Grasshopper picture
Hello Whats That Bug?
I was out with my husband enjoying a brandnew camera when I caught sight of this little guy. It was clinging to some plants off one on the nature trails on Fort Gordon, Georgia.I hope it is worthy of your collection. Enjoy!
Ann Smith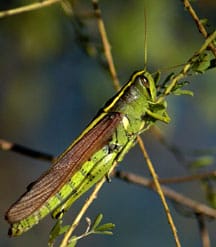 Hi Ann,
This is an Alutacea Bird Grasshopper or Leather-Colored Bird Grasshopper, Schistocerca alutacea. It has some degree of color variability.